Body Scrubs & Wraps
Full body scrubs and wraps are a great solution to keep your bodies skin healthy and looking youthful! They have been used by the royals and rich in Europe for hundreds of years. Even today they are still very popular treatment at all  the Health and Wellness Centres. Pure ingredients sourced from mother earth. Very effective compounds to naturally  help keeping your skin supple, vibrant and looking youthful.
Himalayan Salt Scrubs
Salt scrubs are an anti- ageing treatment for the whole body. Dead skin cells are removed,  new skin cell production is stimulated and  the skin cells receive an influx of new nutrients and oxygen. This results in firmer, more vibrant skin. We see the results on our regular clients!
French Clay Wraps
Clay wraps work slightly different. They start with a dry exfoliation using exfoliation gloves.This removes the dead skin cells and stimulates the circulation, so the clay mask is more effective. The French clay draws out toxins and delivers minerals and other nutrients to the skin. Regular clay wraps together with a diet rich in vegetables and salads and low in sugar and fat help to improve cellulite!
With all our Body Scrubs & Wraps we provide disposable underwear, a bath robe and slippers. We protect the floor with large sheets. On request we even make you a cup of tea so you can stay nice and relaxed after your treatment!
Himalayan Body Scrub $95
This invigorating, yet relaxing treatment treatment not only exfoliates your body. It infuses your skin with over 78 minerals. Those are easily absorb through your skin. The oil blend used in the scrub conditions, softens and plumbs your skin. Leaving your skin feeling lovely, soft and rejuvenated. After the scrub we send you into the shower. Followed by a relaxing full body hydrating massage. Allow 1 hour for this uplifting and cleansing full body scrub..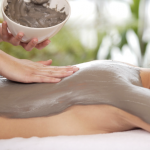 French Clay Wrap $135
This wonderful detoxifying treatment starts with a dry full body exfoliation. We cover you with French clay and cocoon your body. The French clay wrap draws toxins and impurities from your cells and firms the tissue. Whilst you are all cocooned we will give you a complementary facial & and scalp massage. We send you into the shower. Followed by hydrating massage. Allow 90minutes for this amazing treatmnet.